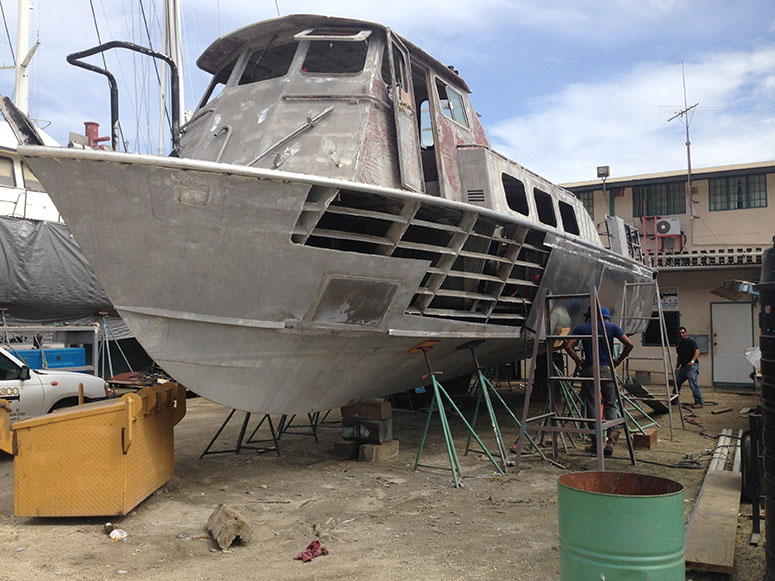 80% of hull replacement including traverse framework
Full Electrical Installation
Removal of Old Engines and Installation of New Engines – Port and Starboard
Full Mechanical Works – Renewal of Stern Tubes, Propeller, Shaft, Rudders, Bearings, Full Alignment of Propulsion System
Glass Blasting – hull, deck and internals
Window Installation; Painting – Anti-fouling, Waterline
Topside, Deck and Superstructure, Call Signs
Dry-docked for a standard service and repair – Mild Steel Welding – Hull and internals
Aluminum Welding – Handrails and superstructure
Mechanical Repairs – Bearings and full alignment and installation
Propeller; Rudder
Shaft
Painting – Antifouling
Waterline
Topside including hull and deck
Completed on time and within budget and 100% safety record
When we received this vessel the repairs to be carried out were Scraping and Pressure Washing entire vessel;
Complete stainless steel welding to the port side line guard
Re glassing of damaged areas to port, starboard, and bow
Complete re glassing of the rudder; Painting – anti-fouling, topside and port, starboard and stern call signs – turn around time five (5) days to completion
Another amazing week here at AMMSCO's offices! Among the projects of the week, we wish to feature the F/V Liberdade dry-docked. In only 8 calendar days we carried out an array of repairs to this vessel
Full Propulsion Works: removal and replacement of propeller, rudder, propeller shaft, inner and outer bearings, tiller arms and couplin.
Propeller Repairs: Welding of propeller blades, propeller balancing and refinishing.
Machining Works: Machining of entire shaft, inner and outer bushings, propeller nut and fabrication of protective brass ring.
Fiberglass Repairs: Complete Fiberglass to port side fin; rubbing band port and starboard side; drain scoops and sea chest. Minor repairs to rudder, stern tube and rudder flange replacement.
Painting: Removal of marine growth along with pressure washing the entire vessel – keel to topside. Application of Antifouling and Topside paint; Port, Starboard and Stern signage.
Welding and Fabricating Services
AMMSCO Limited, among its list of services, specializes in ALL types of welding and fabrication. Our expertise is in mild steel, aluminum welding, stainless steel welding, and bronze metals. With over 20 years in the business, our clientele listing is very extensive to include customers both locally and regionally from the oil and gas industry, ship owners and homeowners to name a few. We can boast of our quality service at competitive prices with a high safety record.


Fabrication and Installation of Railings, Steel Doors and Gates

From Warehouses, office buildings and commercial sites to the homeowner, AMMSCO Limited can handle all your welding and fabrication requirements – from steel doors, gates, windows and railings to name a few.
Confined Space and Tank Cleaning
AMMSCO Limited Quality assured Tank Cleaning and Confined Space services:-
Liquid Mud Tanks
Diesel Tanks
Cement Tanks
Dry Bulk Tanks
All waste products are disposed of in an environmentally safe manner and is to the standard as outlined in the Marine and Oil and Gas Industry.